Covering Ground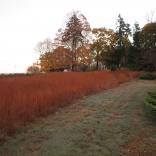 To lawn or not to lawn? Ongoing conversation has long history.
In some parts of the U.S. today, the lawn is disappearing due to droughts. In other places, pesticide bans are pushing both the willing and unwilling towards organic lawn care. Concern for pollinators and the lack of time for meticulous lawn care inspire others to ask a once-unthinkable question:
"To lawn or not to lawn?"
Pages