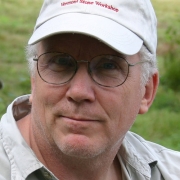 "Growing Greener" is presented by podcaster and author Thomas Christopher. Kathy Connolly joined him on several occasions:
Rain Barrel Gardening: Description from Tom's website: "Too often environmentally conscious gardeners look for the "silver bullet" for our sustainability and resource issues, rather than contenting ourselves with what Kathy Connolly describes as "two percent solutions."  Kathy is referring to small changes that cumulatively can have a big impact.  Listen to her describe her use of rain barrels as a convenient, inexpensive way to conserve drinking water, reduce energy usage, and make gardening more fun."
Reduce Weeds Without Herbicides Description from Tom's website: "Kathleen Groll Connolly details natural, herbicide-free techniques she uses to clear a site of invasive species and prepare it for replanting."
What About Ticks in the Landscape? Description from Tom's website: "Dr. Thomas Mather, Director of the University of Rhode Island's Tick Encounter Resource Center, and Kathy Connolly, designer of native gardens and proprietor of Speaking of Landscapes, LLC, discuss ways to avoid tick bites and manage the landscape so it is less hospitable to these dangerous pests."