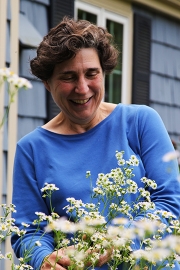 Greetings and thanks for visiting. 
I believe that enduring landscape design balances our desire for attractive spaces with care for our fellow creatures and the environment we share. I aim to use four resources in every project: Artistic design, horticultural science, landscape craft, and an interpretation of how people relate to the location. When those resources are working together, we can produce enduring and satisfying landscape installations.
My design services include landscape assessments, comprehensive plans, plant research, and project management. My specialties include lawn reduction, groundcovers, flowering meadows, waterside buffer gardens, deer-resistant designs, hard-to-grow hillsides, and foundation gardens. I am well-versed in the use of native plants, as well as reduction and removal of invasive weed species. (See recent projects.) (See awards and endorsements.) 
I also make many presentations (including tours and webinars) each year on landscape topics for a wide variety of audiences. I write about horticulture and landscape ecology for print and web.  
Scroll down for a list of recent projects and other points of interest. Please contact me for more information. 
Landscape design projects:
Westbrook, CT: Design and guide installation of 8000-square foot meadow garden on public conservation land with the Westbrook Garden Club. See slideshow. As a result of this project, the Westbrook Garden Club won two awards. In 2021, they received a President's Award from the Federated Garden Clubs of Connecticut. In 2022, the National Federated Garden Clubs gave the Club an Award of Merit for Community Enhancements-Roadside Plantings. Congratulations to this dedicated group!
Oak Bluffs, MA: Work with home owners' association to naturalize 4.3 acres of shared open spaces in their development. 
Deep River, CT: Design landscape for newly constructed home on six acres, including steep slopes, riverfront landscape, driveway plantings, and meadow areas. 
Branford, CT: Design all-native plantings for steep hillsides.  
Lyme, CT: Design and manage installation of a one-acre backyard renovation, including more than 30 native trees. 
Milford, CT: Cottage garden with an emphasis on flowers for cutting. Complete lawn elimination and backyard conversion.
Cheshire, CT: Design bird and pollinator planting for public property adjacent to Lock 12 on the Farmington Canal Rail Trail with Sustainable Cheshire. 
Eastham, MA: Lawn-to-meadow design for Cape Cod residential property. 
Stonington, CT: Comprehensive landscape plan for newly constructed home, including meadow areas instead of lawn. 
Old Saybrook, CT: Landscape plan for backyard cottage garden and fountain. 
Westbrook, CT: Design, plan, and install xeriscape for the village center parking lot. See slideshow.
Middlefield, CT: Clean water initiative through stormwater management and design for a pond-side buffer. 
Old Saybrook, CT: Design and install a "disguise" planting for safety railing in a residential neighborhood, while also reducing hillside erosion and road runoff into a saltwater cove on the lower Connecticut River. See slideshow.
Stonington, CT: Residential foundation garden and driveway plan.
East Haddam, CT: Lakeside buffer garden for Lake Hayward Association and Eightmile River Watershed. All native plants. This project earned a Special Merit Award from the Connecticut River Coastal Conservation District in October 2013. See the project website. 
Middletown, CT: Design and install streamside buffer for Wadsworth Falls State Park in conjunction with Connecticut River Coastal Conservation District. Read the article. 
Old Saybrook, CT: Design and plant all-native planting for traffic turn-about. 
Mystic, CT: Meadow plan to assist homeowners with D-I-Y installation. 
Wallingford, CT: Meadow assessment and weed identification. 
Middlefield, CT: Vegetative buffer for town's lakefront beach. 
Lyme, CT: Comprehensive landscape plans for riverfront property, including extensive use of erosion control products and techniques.  
Old Saybrook, CT: Invasive weed removal and revegetation with native plants in an environmentally sensitive three-acre area of a local state forest. 
Lyme, CT: Design for riverfront landscape with steep slopes. 
Middletown, CT: Design for a newly-constructed passive solar home using native plants with high drought tolerance. 
Westbrook, CT: Design plantings for historic town green.
Branford, CT: One-acre meadow near Long Island Sound salt marsh. 
Lyme, CT: Planting plan for a steep 3500 square-foot slope.
Guilford, CT: Design new quarter-acre meadow, acquire plants, assist with installation and ongoing maintenance. 
East Haddam, CT: Design lakeside buffer garden for a private residence. 
Westbrook, CT: Comprehensive landscape plan for a residential property on a tidal marsh, including reclamation of riverfront hillside. 
Chester, CT: Planning and seed selection for 10,000 square foot flowering meadow. 
Lyme, CT: New entryway design and foundation gardens for a residential property on a wooded hilltop. 
Old Saybrook, CT: Landscape design for One Main Street on behalf of the Old Saybrook Garden Club.
East Haddam, CT: Pathway and foundation garden for a log cabin home. 
Old Saybrook, CT: Design to replace overgrown invasive weeds in a 3000-square-foot area along a salt marsh.
Waterford, CT: Comprehensive landscape plan for a newly constructed home. 
Manchester, CT: Woodland garden in 5000 square foot area.
Westport, CT: Total renovation of an overgrown field with stonework, native trees, shrubs, and perennials. 
Williamsburg, MA: Site plan designed to capture stunning views while overcoming the problems of a hilly landscape. 
Southbury (CT) Land Trust open space management plan: Member of a planning team that addressed long-term plans for agriculture and passive recreation at two conserved properties. 
West Rutland, VT streetscape: Member of a planning team for Main Street, West Rutland, and the town's well known Carving Studio. The plan included facade improvement, infrastructure for cars, bicycles, pedestrians, lighting, and stormwater management. 
Presentations on Landscapes, Design, Gardens, and Horticulture:
I offer workshops, webinars, tours, and seminars for organizations, libraries, garden clubs, garden centers, schools, Cooperative Extension centers, and more. Please see my landscape presentations page. 
Writing for Print and the Web
I write about landscape design and horticulture with a focus on healthy landscape ecology. As former editor/guide for Lawns and Lawn Alternatives at The Spruce, I wrote about a wide variety of methods to improve the green spaces around our homes and communities. My "Green & Growing" column appears every two weeks in The Day community newspapers, which circulate throughout southeastern Connecticut and western Rhode Island. I am also the co-author of several books in the human resources field, and a published poet and essayist. Please visit my blog or articles page for the latest examples. 
Degrees & Certificates:
MA, Sustainable Landscape Planning and Design, Conway School of Landscape Design
MBA-Marketing, New York University, NY
BA-English/Writing, Pennsylvania State University, State College, PA
Northeast Organic Farming Association, Connecticut: Accredited Organic Land Care Professional, 2002 - current
University of Connecticut Cooperative Extension: Completed advanced master gardener program in 2003.
Community Service
In recent years, I have been very active with invasive plant management at The Preserve State Forest, a 1000-acre area in Old Saybrook, Westbrook, and Essex, CT. I am also active on the Connecticut Invasive Plants Working Group. (Read here about my award from CIPWG.) I am a street tree planter in Old Saybrook. I led many school gardening programs with the Old Saybrook schools while my children were young. I am currently a member of the Ecological Landscape Alliance, NOFA Accredited Organic Land Care Professionals, Native Plant Trust, Connecticut Forest and Park Association, and Old Saybrook Land Trust.
Business Career and Survey Research
I worked with husband and business partner Paul M. Connolly, Ph.D., in his industrial psychology consulting firm, for more than two decades. Today, Performance Programs has hundreds of clients worldwide for its employee surveys, job personality tests, and leadership assessments. As co-owner, I carried out many marketing and management activities, but most enjoyed my role in e-content development and e-commerce. The Performance Programs websites now account for more than 50% of the company's business. Before my 20 years with Performance Programs, I held a variety of marketing positions.
Simultaneous with this career, I pursued landscape and horticulture studies.
Photos of Kathy Connolly by Charles Landrey of Old Saybrook, CT.