Land care has never been completely straightforward--it took our ancestors thousands of years to learn by trial and error—and today, land care is more complex than ever. Perhaps it should be part of high school education, like driver's ed or cooking class. As far as I'm aware, though, it isn't.
Instead, much of our land care education—for homeowners and landscape pros alike—comes from the companies whose products change the soil and push grass to new heights. The news can be as confusing as the latest university press release on weight loss. The confusion exists not only around synthetic chemical products, but for products with an organic cachet as well.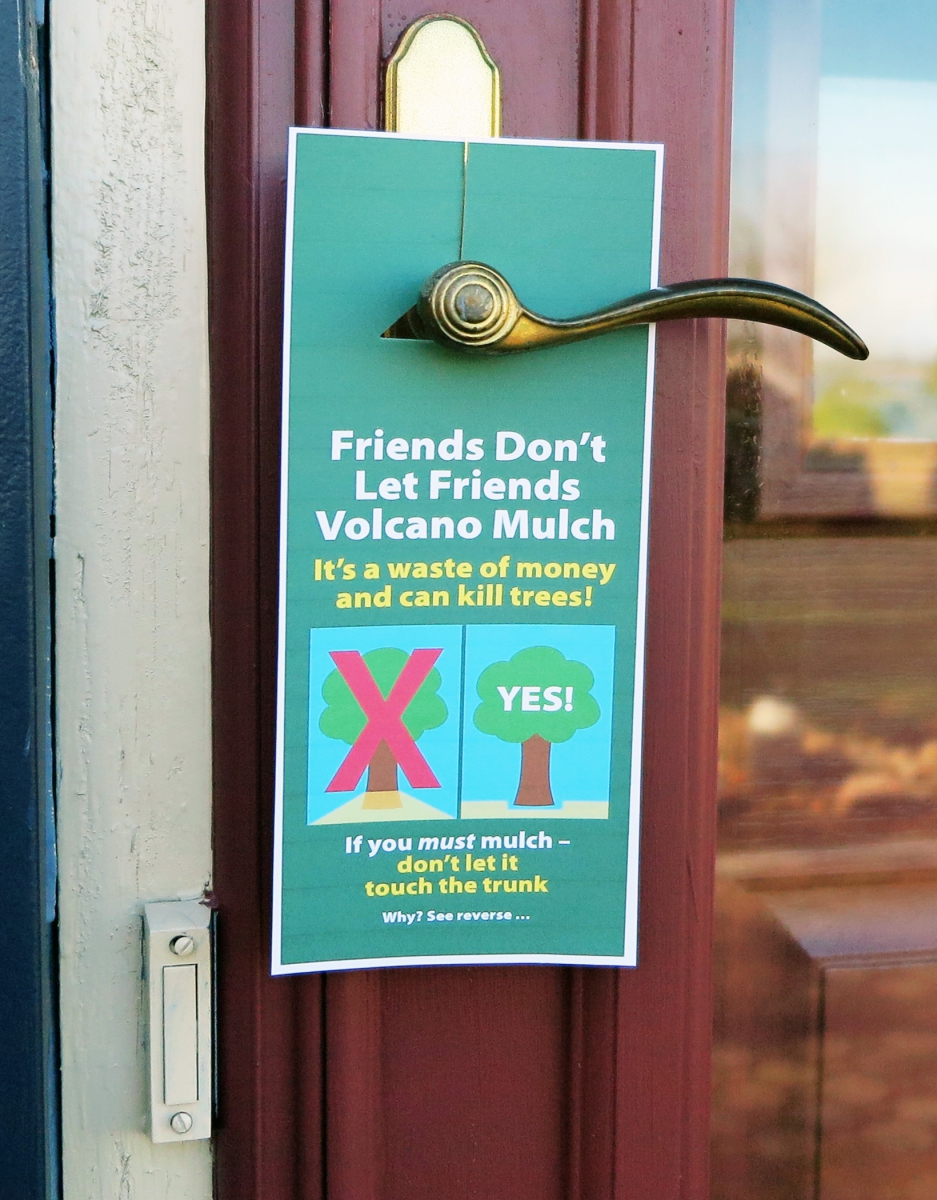 My thanks to Nancy DuBrule-Clemente of Natureworks and Anne Rowlands of Connecticut Gardener for the door-hanger artwork. It is based on a public service message from Texas A&M University. 
Even bad examples, such as the widespread practice of professional landscapers to create mulch volcanoes around tree trunks, can influence what we do. 
Unfortunately, confusion can lead to misuse. 
Here's the good news: The local and online learning opportunities are many.
Start with our state's sources of free call-in and email assistance. The scientists at Connecticut Agricultural Experiment Station advice on weeds, plant diseases, wildlife, pollinators, ticks, and other insects from offices in New Haven and Windsor. They offer free soil tests that include basic fertility recommendations and, if requested, soil organic matter and textural analysis. On Wednesday, August 2, 2017, they will hold the 107th Plant Science Day at Lockwood Farm in Hamden, a day of exhibits and talks. See www.ct.gov/caes for contact information, research reports, and fact sheets.
Next, the extension specialists at UConn Home and Garden Center provide multiple sources of public education and individual assistance. Call (877) 486-6271 any weekday, or visit http://ladybug.uconn.edu  with questions about land care, plant care, insects, pests, and food safety. They also have offices in Norwich, Haddam, and North Haven.
UConn Extension offers the Master Gardener, Advanced Master Gardener, Master Composter, and Coastal Landscaping for Clean Water certificates. (You don't necessarily have to be part of the certificate program to take classes.)  
Connecticut College Arboretum in New London offers public tours and hands-on workshops. (https://www.conncoll.edu/the-arboretum/) Better yet, take a self-guided walk on the grounds from the main entrance on Williams Street.
If you're looking for the right landscape plants, use the UConn Plant Database to narrow your search (http://plants.uconn.edu). For native wildflowers, try the lists offered on the home page of the Connecticut Botanical Society (https://www.ct-botanical-society.org/).
See NOFA's farming events and classes at http://ctnofa.org.
For local reporting by local experts, and all the local events, see Connecticut Gardener magazine. (http://conngardener.com.)
In other words, keep learning. It may be a good time to contemplate something Thomas Jefferson said towards the end of his life, "But though an old man, I am but a young gardener."
We can't all be great statesmen and women, but we can be youthfully open-minded when it comes to earth care.