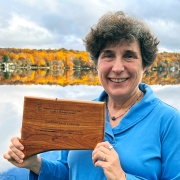 Leslie J. Mehrhoff Award for Management of Invasive Plants and Communications
"Kathy has been described as a great asset in the movement to replace invasive plants with native plants . . . she balances pragmatism with hope and leaves volunteers feeling confident and enthusiastic . . . "
From the award presentation by Jessie Mehrhoff Peters, at the 11/3/2022 Connecticut Invasive Plant Working Group Symposium.
Connecticut Invasive Plant Working Group