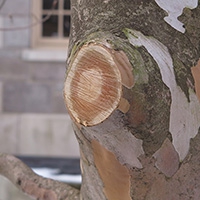 Seize the day and seize the pruning saw. It's late winter and time to prune (most) trees and shrubs. The list of exclusions is pretty short, so here goes:
Don't prune in late winter and early spring: 
Exclude spring flowering shrubs such as spring-flowering species, such as azalea, rhododendron, magnolia, forsythia, chokeberry (Aronia), and lilac. Prune these after they have finished flowering. 
If you never got around to pruning your bigleaf or oakleaf hydrangeas last year, don't do it now. Hydrangea macrophylla, Hydrangea serrata, and Hydrangea quercifolia.
DO prune in late winter and early spring: 
Non-flowering deciduous shrubs and shade trees such as maple, oak, and elm, as well as summer-flowering species such as Rose-of-Sharon, viburnums, and summersweet. It is also a fine time to prune needled evergreens. 
Pruning is art, science and craft.  Looking for more information? That's a good idea. Here are some resources:
See this comprehensive guide to pruning offered by the Connecticut Agricultural Experiment Station.

Check out Cass Turnbull's humorous spin on her "Plant Amnesty" site, www.plantamnesty.org. Turnbull is also the author of "Cass Turnbull's Guide to Pruning" (Sasquatch Books, 2012).

Lewis Hill is one of the most prolific authors on do-it-yourself pruning. His "Pruning Answer Book" (Storey Publishers, 2011)  and "Pruning Made Easy" (Storey Publishers, 1997) are very helpful. 
Want more information? Visit my recent article on pruning at Zip06.com or download a copy of my article below.