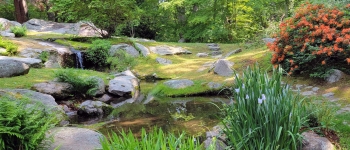 If you're ready to indulge in botanical eye candy, take a road trip to a public garden. Below, learn about five in the eastern Connecticut shoreline area. Don't forget to take a look at the much longer list of ideas at the end of this post. 
Connecticut College Arboretum's 750-acre grounds offer easy trails, a native plant collection, pond and river views, wetlands, and natural areas. The website offers printable maps, interactive maps, informative "story" maps, and a schedule of events. See conncoll.edu/the-arboretum. 
Florence Griswold Museum in Old Lyme is best known for the impressionist painters who gathered there at the beginning of the 20th century, forming the Lyme Art Colony. But 'Miss Florence,' as Florence Griswold was known, was an avid gardener. The museum's abundant plantings today reflect Miss Florence's love of flowers and her joy at sharing it all with her boarders and tourists. See florencegriswoldmuseum.org.
Waterford's Harkness Mansion and State Park is well known for sweeping views of Long Island Sound, beautiful natural areas, and lovely picnic grounds. It is also known for its carefully restored historic gardens designed by Beatrix Farrand, America's first high-profile female landscape designer. See Harkness.org.
Thankful Arnold House was once home and hearth to a woman named Thankful Arnold and her large family. Today, the 18th-century home has a historically appropriate garden devoted to 50 varieties of herbs that had culinary, medicinal, or other practical uses in the 18th and 19th centuries. See haddamhistory.org. 
Meigs Point at Hammonasset State Park in Madison devotes its grounds to plants and planting practices that nurture wildlife, are gentle on the earth, and create beauty. The most remarkable area, in my opinion, is the purple martin habitat. It is easily viewed from the deck behind the main building or the lawn but is cordoned off to provide purple martins and their chicks the space and sense of safety they need. Visit meigspointnaturecenter.org. 
If you are traveling throughout the broader region, the public garden choices are many and impressive. Please scroll down. (Do you have favorites, not listed here?)
Greater New Haven area: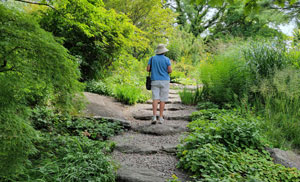 Glebe House Museum & Gertrude Jekyll Garden, Woodbury
Kellogg Environmental Center and Osborne Homestead Museum, Derby
Marsh Botanical Garden, New Haven
West of New Haven
Bartlett Arboretum, Stamford
Highstead Conservation Center, Redding
New Canaan Nature Center
Promisek, Bridgewater
Weir Farm National Historical Park, Wilton
In Hartford
Butler-McCook House & Garden
Elizabeth Park
Harriet Beecher Stowe Center
Mark Twain House & Museum
Greater Hartford & Northeast
Bellamy-Ferriday House & Garden, Bethlehem
Hill-Stead Museum, Farmington
Phelps-Hatheway House, Suffield
Roseland Cottage, Woodstock
Stanley-Whitman House, Farmington
Webb Deane Stevens Museum, Wethersfield
Rhode Island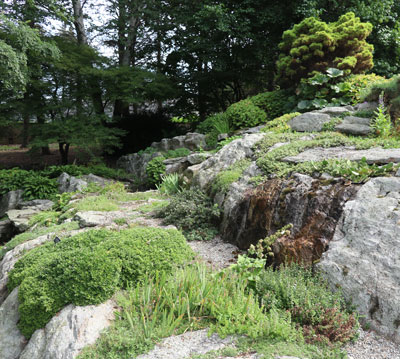 Massachusetts
Arnold Arboretum, Cambridge
Berkshire Botanical Gardens, Stockbridge
Bridge of Flowers, Shelburne Falls
Native Plant Trust, Framingham
New England Botanical Garden at Tower Hill, Boylston
Norcross Wildlife Foundation, Wales
Polly Hill Arboretum, West Tisbury, Martha's Vineyard
New York
Brooklyn Botanical Garden
Native Plant Center - Westchester Community College, Valhalla
New York Botanical Garden, Bronx
Stonecrop Gardens, Cold Spring (a personal favorite)
Wave Hill, Bronx
Maine
​Coastal Maine Botanical Gardens, Boothbay
Pennsylvania
Chanticleer Gardens, Wayne, PA
Bowman's Hill Preserve, New Hope, PA
Longwood Gardens, Kennett Square, PA
Penn State Arboretum, State College, PA
Phipps Conservatory, Pittsburgh, PA 
For a recent news article, visit Zip06.com.