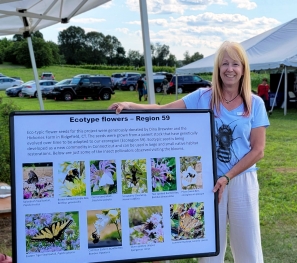 If you're part of the nature-loving crowd, perhaps you're used to hearing laments on the state of the insect world, the plant world, or other aspects of life's big web. This year, many comments seem to go like this: "I haven't seen a monarch." Or "Where did all the honeybees go?" Or "We didn't see a single bumblebee this spring."
Hoping to sort reality from fear, I contacted three experts.
Brian Stewart of Middletown, CT, is a citizen-scientist who--at publication time--had identified 725 species of insects on his quarter-acre property over 16 years.  (Only a month after we spoke, he added two.) Stewart has learned to seek, photograph, and with the assistance of a crowd-sourced website, identify the little creatures. You won't be surprised to learn that he follows an insect-friendly land care regime. 
I also spoke with entomologist Kelsey Fisher at CT Agricultural Experiment Station, an insect scientist with significant experience studying monarch butterflies, among other insects. 
Bee scientist Tracy Zarillo, who's been studying bees in southern New England for 20 years, also weighed in on what's working--and what's not--for the bees.
See the complete article at Zip06.com.