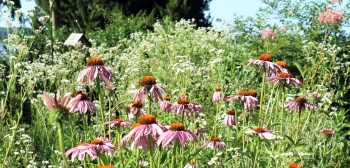 Millions of people flock to the national parks each summer, seeking magnificent scenery and interesting history. But what if, instead, millions of people discovered the parklike nature of their own backyards and community open spaces?  
According to Douglas Tallamy, a well-known entomologist and ecologist, "We cling to the notion that nature should be saved where nature remains, not where humans work, live, farm, or play."  
Instead of maintaining our home landscapes in their fragmented state, he suggests a different point of view and some new practices. If enough of us voluntarily plant native plants, remove invasive plants, turn down the lights at night, and nix the pesticides, we'll begin to create connected habitat across fences. We'll fill in the national mosaic between the lines. 
If you've read his books or heard his talks, you already know he has a name for the idea: the Homegrown National Park.
Beginning in 2020, Tallamy and his business partner, Michelle Alfandari, created HomegrownNationalPark.org--both an organization and an interactive map where you can make your mark on the map by declaring that you are adopting the recommended practices. 
See the complete article in the May 2023 edition of Connecticut Gardener. 
Image of participation by states at HomegrownNationalPark.org