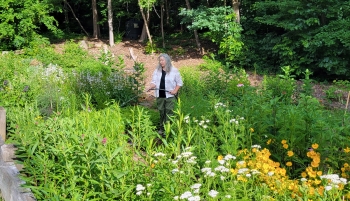 Connecticut's climate could hardly be described as arid. In fact, historical rainfall averages 45 to 50 inches each year. 
But averages are meaningless when your summer gardens are going brown, and there's no rain in the forecast. Historical records show our summers are often dry and sometimes for many weeks.
The Connecticut Agricultural Experiment Station's Lockwood Farm in Hamden has kept weather data for more than a century. Consider 1993, for instance, when only 5.5 inches of rain fell from May to August. The summers of 1995, 1999, and 2005 all had less than 10 inches. The summers of 2015, 2016, and 2022 were only somewhat wetter. Gardeners and farmers are likely to agree, this is not enough water.
Enter the rain barrel.
I've relied on these simple devices to address plants' water demands for more than 25 years. You might say I'm a believer. Yet, I've also come to see that people who haven't tried a rain barrel may find it difficult to envision the benefits.
After all, it's easy to see that a single 60-gallon barrel won't solve all watering problems. In my experience, though, rain barrels excel at putting water supplies in strategic locations and at strategic times. Even a small roof can fill a 60-gallon barrel quickly. Linked barrels can double or triple the catch or more.
A full rain barrel is ready when you are.
Also, consider some of the larger vessels available today. Maggie Redfern of New London installed two large tanks and adapted them to collect rain from a garage roof. 
Rainwater collection is a time-tested idea that fits today's environmental needs. And don't forget that rainwater is the preferred beverage of plants everywhere!
Read the complete article at Zip06/TheDay.