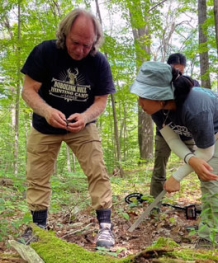 As someone who works in the land care business, I sometimes feel as though I'm caught in an endless game of whack-a-mole. Between spotted lantern flies and jumping worms, from knotweed to tree-of-heaven, I sometimes think, who needs Halloween or a scary movie?
Is there are more systematic, less fatiguing way to think about the problem of invasive plants?
The keynote speaker at the 2022 Connecticut Invasive Plant Working Group (CIPWG) symposium suggested a more nuanced approach. Bernd Blossey runs Cornell University's program in Ecology and Management of Invasive Plants, and his research has produced some controversial perspectives on the problem. Photo, right: Bernd Blossey works with Cornell students on invasive plant studies.
Blossey is a proponent of the idea that we should step back and look at the bigger picture before reacting to invasive species.
I first heard Blossey speak about ten years ago and he opened my eyes to the possibility that garlic mustard—a listed invasive plant—may be self-limiting and not worthy of as much attention as it sometimes gets. In addition, he offered that many invasive plants that may be in the same category.
"Plants are always visible and can't run away, and land managers feel the need to 'do something'. But the plants are not always the agents of change," he said in a recent interview. "We blame introduced plants such as Japanese stiltgrass and garlic mustard for the ill effects we see in a landscape. But we must figure out whether the plants are the real drivers."
Blossey continues, "We know the vast majority of non-native, imported plants do not become invasive. The big question is this: Which ones are self-limiting, and which are the bullies?"
Blossey develops and implements biological weed control programs; among his target plants are two he calls "bullies," Japanese knotweed and phragmites. "These do not seem to be self-limiting," he says.
His team increasingly focuses on impacts of multiple landscape "stressors," which he suggests are often earthworms, slugs, and deer. He is deeply involved in different approaches to deer management at Cornell. 
See the complete article at Zip06/TheDay. 
Learn more about the Connecticut Invasive Plant Working Group.