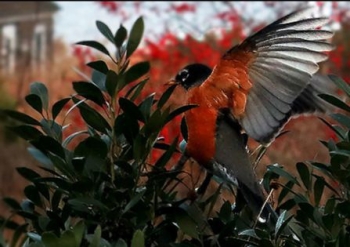 Lots of us look for native plants that support pollinators and birds, but need those plants to be deer-resistant and tolerant to annual summer droughts. In my latest article, I nominate some selections that meet all three criteria—native, deer-resistant, and drought-tolerant. In my experience, these are the best natural bargains you can buy. 
Visit the article and find the plants listed in alphabetical order by common name. If you feel inspired to look further, use the "plant finder" websites listed at the end of the article. 
Read the complete article at Zip06/TheDay.
Photo: An overwintering robin lands on inkberry to forage for berries. Winter birds also use this dense shrub for cold protection.