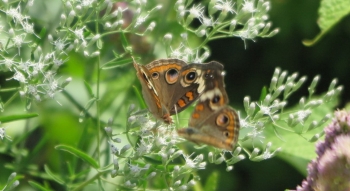 Many experts suggest that one way to help birds, pollinators, and other wildlife is to use regionally native plants. That is not always easy to do in 2021.
"There's a supply chain problem in the nursery trade," says Mary Phillips, director of National Wildlife Federations' Garden for Wildlife program. "Some wonderful nurseries grow native plants on a regional level, but they tend to be small suppliers." As for the dominant suppliers, she says, consumer preferences often point growers away from plants that offer wildlife benefits.
"Unfortunately, the birds, butterflies, moths, and other creatures can't wait for the nursery trade to catch on," says Phillips, referring to ongoing declines in wildlife populations.
In a bid to break down the barriers to native plant supplies, National Wildlife Federation (NWF) launched Garden for Wildlife Native Plant Collections this year, a science-based collection of pollinator "keystone" plants for ecoregions of the northeastern US and Midwest. Behind the scenes, the Garden for Wildlife team works with the horticulture trade to increase the supply of keystone pollinator plants.
"Our goal is to reach 500,000 wildlife gardens, planted by 2025," says Mary Phillips.
That's an ambitious goal, given the shortage of native plants at this time.
"We place pre-orders with our growers in the fall," says Phillips. "That way they know what to grow and they know they won't be stuck with unsold plants." Garden for Wildlife is currently contracting for plants native to ecoregions in 20 northeastern and midwest states, of which Connecticut is one.
There's more to the story, however. "It's not enough to supply lots of native plants," says Phillips. "The growing methods are important. For instance, we are only working with suppliers who avoid the use of neonicotinoids."
These insecticides, commonly called "neonics," are a known hazard for bees. When used in a nursery setting, neonics can remain in plant stems, leaves, and roots for up to a year.
The Garden for Wildlife team had to address other tricky questions, such as plant propagation. "We guide growers towards seeds sourced from places as close to the plants' ecoregions as possible," says Phillips. This is a difficult undertaking. Over the past century, most seed suppliers concentrated production in the Midwest or western US, as well as overseas.
"There are regional adaptations that are passed along only by regionally produced seeds," says Phillips. "We lose those valuable adaptations when plants are grown from clones, cuttings, or from seeds produced far away from their native regions."
Phillips notes that locally-grown seeds protect plant biodiversity. "The next generation of plants is made more resilient by the exchange of genetic material between locally-adapted parent plants," she says.
Finding the Right Kit
After I entered my zip code at www.gardenforwildlife.org/s/questionnaire, I completed a brief questionnaire about my location and interests. The site provided two kit recommendations, one for full sun and one for part shade. Plant descriptions and planting instructions appeared. The site also showed that these selections support 102 bee species and 144 butterfly species in our region.
"We are trying to supply not just plants, but a planting experience that supports success," says Phillips.
See the complete story and a list of resources at Zip06/TheDay.