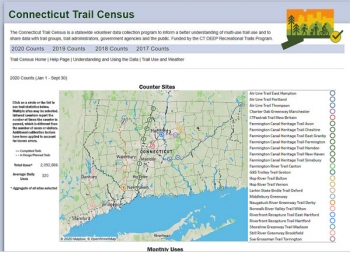 According to the Connecticut Trail Census, our small state has more than 2,000 miles of recreational trails. Those are a lot of miles but, until a few years ago, no one was counting trail usage within the state.
In 2016, though, the Connecticut Trail Census pilot program launched. (See cttrailcensus.uconn.edu.)
Now, thanks to the census, there's data behind the general sense that more people are walking in the woods since the pandemic began. "A total of 190,218 uses were recorded across 13 sites in June 2020," they reported, a 53 percent increase over the same period in 2019 across the same trails.
For people who manage land for public benefit, visitor increases are good news.
For instance, Kim Bradley, president of the Avalonia Land Conservancy Board of Directors, says, "While we have seen significant increases in the use of our trails, we have not observed negative impacts." 
At the Connecticut College Arboretum, Assistant Director Maggie Redfern says, "We are happy for increased visitation during the pandemic. There is plenty of space for folks to be socially distant in the landscape."
In Old Saybrook, Parks & Recreation Director Ray Allen notes the increased number of children in the town's open space, walking with family groups.
"It's an excellent thing to see," he says, "I hope it signals a long-term change."
With increased use, however, comes increased wear and tear. Some land managers say that new woodland visitors aren't always aware of best practices. 
At Connecticut Forest and Park Association, executive director Eric Hammerling says, "People crowded into the best-known parks while others remained relatively quiet." CFPA recently published an online guide to finding less popular trails. Find it online by copying and pasting #CTTrailsLessTraveled.  
See the complete article, including lists of parks and lots of trail-finding resources, at Zip06/TheDay.