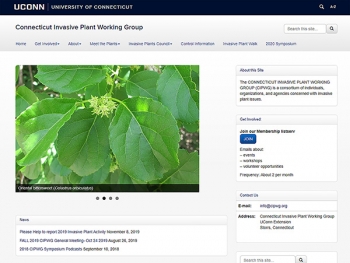 They were innocent-looking seedlings in June, but by the end of August, most weeds are like toddlers on a tantrum—you can't ignore them. Japanese stiltgrass, mugwort, and more all seem to say, "In your face, weed whacker." 
These unwanted plants are irritating and inconvenient, but their damage extends far beyond the emotions of landowners who wish the weeds would just go away. Unfortunately, invasive plant management is a year-round job and a sometimes perplexing one.
Just ask Donna Ellis and Charlotte Pyle, two long-time members of the Connecticut Invasive Plants Working Group (CIPWG). Ellis helped found CIPWG in the late 90s. Pyle joined the forces in 2002. 
"About 25 years ago, we began to recognize a set of non-native plants increasing rapidly, spreading up roadsides, in wetlands, and in sites where the soil was disturbed," says Ellis, a retired senior extension educator for UConn's Department of Plant Science & Landscape Architecture.
"The invasive plants are not going away," says Pyle. "They have a negative impact everywhere, from natural habitats to backyards and neighborhoods to highway corridors."
Among the problems related to invasive weeds, Pyle lists wildlife habitat destruction, loss of habitat for native plants, interference with food production, and the massive amount of public and private funds that are devoted to solving invasive plant problems.
Learn more about CIPWG's history, biennial conference, and outreach projects at Zip06/TheDay.
See Connecticut's official invasive plant list.