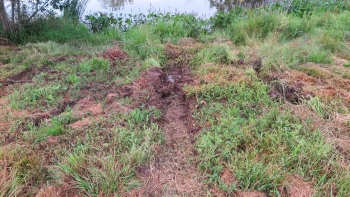 After almost three years of planning and planting, the meadow was coming into its own. The grasses were finally tall and healthy. Flowering plants lit up the field. As a finishing touch, an inviting new walking path had just been created. 
Then disaster struck. A mowing contractor, not familiar with the project, had time left after completing his primary work at the site. He decided to do the owners a favor: He cut the meadow to the ground, including forty-plus shrubs and hundreds of wetland plants. Tractor tires ground all that careful work into oblivion. 
I could label the loss the result of incompetence, carelessness, a terrible mistake, or worse. Yet we all know that the tractor operator made a common assumption that earns him—and thousands of others—a paycheck: Tall vegetation is meant to be mowed. 
But we could also see the mower's attitude as the result of a broader cultural problem, one that some in the horticulture world called "plant blindness." The phrase appeared for the first time in a 1998 research paper by science educators James Wandersee and Elisabeth Schussler. They defined plant blindness as "the inability to see or notice the plants in one's own environment." They continued, "Paradoxically, plants form the basis of most animal habitats and all life on earth."
If you want to learn more about plant blindness, or challenge yourself to have more plant insight, visit my latest article at Zip06/TheDay: Plant Blindness, a Mower, and One Unfortunate Afternoon.