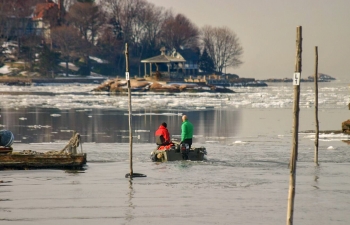 Suzie Flores had no professional farming or maritime experience before 2016. Then her husband, a veteran of the U.S. Marines, purchased the Mechanic Street Marina on the Pawcatuck River in Pawcatuck. He'd been around boats all his life, but was not a farmer. After the couple moved into the marina with their young children, Flores began her own "fishing expedition" for water-dependent business ideas.
She found Greenwave.org online and sent an email with this inquiry: Would Fishers Island Sound support kelp farming?
Thus began a two-year mentoring relationship with the Greenwave staff.
Flores and Douglas's business, the Stonington Kelp Company, is in its second season, as of the winter of 2019. They have weathered the successive nor'easters of spring 2018, in addition to the demanding processes of site selection, permitting, outfitting, seeding, and tending. Their ocean farm site, which they lease from the State of Connecticut, is a 40-minute boat ride from the Mechanic Street Marina.
Flores says site selection is critical.
"If you don't select well, you won't know you have a problem for a year," she says. "This practice is so new to Long Island Sound, there's little long term information on the sea bed characteristics that would make site selection more predictable."
With great relief, they made their first harvest in spring 2018.
Flores and Douglas visit the farm about once per week from December to April to check on equipment and progress. The farm work can take from 30 minutes to three hours.
Learn more about restorative ocean farming, the Stonington Kelp Company, and Greenwave at: 
https://www.zip06.com/living/20190130/down-on-the-farm-in-fishers-island-sound