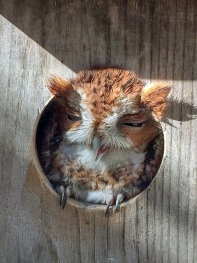 Got bird houses? Lots of people do. But have you got owl houses or habitat? 
Owls have a keen appetite for mice and other rodents, critical vectors of the disease-carrying tick population. Who can deny the attraction of natural tick control? Owls also eat voles, critters who are responsible for lots of lawn destruction. Some owls also hunt shrews, skunks and rabbits, among other prey.
Owls, however, have a hard time in the modern world. A raptor rescue organization in Killingworth, A Place Called Hope, has housed and nursed more than 60 injured barred owls since January, according to spokesperson Vicki Silvia. The organization recently reported the death of a great horned owl due to secondary poisoning from rodenticides, an event that is unfortunately not unique.
According to experts, owls have different housing requirments. 
To learn more about how you can give a hoot about owls, visit
TheDay.com
.