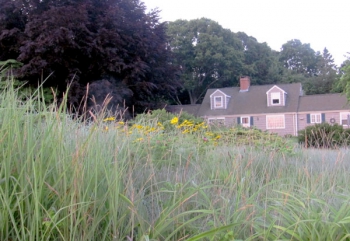 In some parts of the U.S. today, the lawn is disappearing due to droughts. In other places, pesticide bans are pushing both the willing and unwilling towards organic lawn care. Concern for pollinators and the lack of time for meticulous lawn care inspire others to ask a once-unthinkable question:
"To lawn or not to lawn?"
In fact, this is not a new question. Some people have questioned lawns as land covers almost since they first became popular.
Also, some communities and homeowner associations legislate lawn standards based on assumptions from a different time. The Wild Ones organization is spearheading an attempt to create a template for blight ordinances that exempt natural landscapes from these kinds of complaints. 
I have grown a one-half acre meadow for 20 years. We have never received neighborhood push-back. Nor has this meadow had bad effects, to the best of my knowledge.
On the positive side, it is the delight of countless birds, butterflies, bees, toads, dragonflies, and more. It is also very pretty. See the photo with this story or view the four-minute video.  
To satisfy my own curiosity about the history of lawns and lawncare practices, I have been compiling a history and bibliography of lawn critiques and lawn alternatives.
If you're from Connecticut, you may be interested to know that the longest running conference on lawn alternatives is still happening every year at Connecticut College in New London. It's called SALT: Smaller American Lawns Today. 
The Connecticut and Massachusetts chapters of the Northeast Organic Farming Association were the first to create organic landscaping and lawn care standards. 
If you're wondering why there's so much moss in your lawn, why not consider moss as a lawn replacement? 
And have you heard of strawberry "lawns"? 
Given all the thought going into this topic, I have little doubt that lawn alternatives will evolve into standard practices one day soon.