Not too late
October, 2014:
If my experience is an indication, a number of communities are considering wildflower meadows for sections of their parks and open spaces. The benefits are several. They provide habitat for birds, bees, butterflies and more. They stabilize soil and, if left undisturbed, sequester carbon. Public meadows provide a demonstration of good practices, in many cases providing cover in areas hard to grow. They delight people with their colors and variety during the flowering season. And, not least, they give town maintenance crews one less weekly mowing job—and reduce carbon emissions at the same time.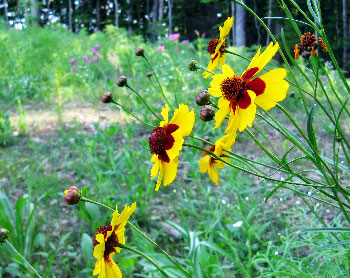 But among the various types of landscapes, such as lawns or formal gardens, meadows are perhaps the least understood. Many people know that fall is considered the ideal time to plant grasses. But many don't know that grasses are the primary ingredient in a successful meadow.
"Most meadows in this part of the country are comprised of a mixture of cool and warm season grasses—as well as a collection of forbs, " according to Mark Lavoie, whose Granby, CT, company, Colonial Seed, specializes in planting meadows and grassy habitats. 'Forbs' are flowering perennials, annuals and biennials. He explains that there is an ideal, finite window of planting opportunity in the fall.
"Many cool season grasses and forbs find September an ideal time for germination and establishment," he says, because cool-season plants can germinate in the fall, establish roots and survive the winter. "But the warm season grasses are a different story," he says. "The window for warm season grasses closes somewhere in mid-to-late August. We have found through experience that dormant seeding of warm season grasses sometime around mid-November or later provides successful establishment the following year."
Dormant seeding refers to the practice of sowing seeds—cool season or warm—after the first killing frosts in late fall and early winter. "Warm season grasses are one of the mainstays of our regional meadows," adds Lavoie.
And though the actual sowing of seeds can take place from November 1 – December 15, late summer and early fall are the best times to begin preparations. "Success with fall meadow plantings comes down to timing, patience, soil preparation and careful seed selection," says Lavoie. One of the most important considerations, he says, is to create a 'clean canvas', meaning that the planting area is free of unwanted seed or vegetation.
Approaches to obtaining a clean canvas may involve both chemical and mechanical methods. But whatever method you use, "Be prepared to clear the area as much as three or four times before planting," he says, noting that it takes some patience. "However you choose to clear the canvas, start now."
Most professionals working in this area advise "top-down" weed removal, such as raking, hand removal, or the use of weed killers. But many people ask about machine-tilling the area, which turns and mixes soil, particularly when they are working in large areas.
Another expert, Catherine Zimmerman, author of Urban and Suburban Meadows (
www.TheMeadowProject.com
), provides a cautionary tale on this topic. She worked with an outdoor music venue that prepared a large area for conversion to a flowering meadow using herbicide and tilling. "On planting day, they had 80 volunteers on site and we planted literally thousands of plugs," she says. "But when I went back three weeks later, weeds were clogging the field, competing with the newly planted flowers and grasses. And there were only three people on hand to battle the weeds." Zimmerman adds, "If you must till due to soil compaction, take the extra time to kill off the weeds that will follow. Then plant. Patience is its own reward!"
If you are working with compacted soil, there are alternatives such as core aeration—which can be done in spring or fall. Zimmerman offers this rule of thumb: "Never till an area before planting a meadow. Tilling brings long-dormant seeds to the surface where exposure to sunlight helps them merrily sprout a bumper crop of unwanted weeds in no time."
But what about the seed itself? It is unfortunate but true that some seed companies have found it expeditious to emphasize the flowers and fail to discuss the role of grasses. Others add too few grasses to create a sustainable mix.
"A wildflower seed mix with no grass is likely to fail after the first season. Grasses stabilize the soil," says Lavoie. A good meadow mix, he says, is often 40% to 70% grasses. If you purchase a flowers-only mix, Lavoie recommends adding several types of fescue, along with hairgrass and little blue stem. Other possibilities include side-oats grama, broom sedge, Canada wild rye or riverbank wild rye.
And what about the 'wildflowers' in the mix? The term itself refers simply to flowers that are likely to volunteer in nature without human intervention. Yet many of the plants in a wildflower mix are also mainstays of our cultivated gardens. More importantly, the wildflower label does not automatically mean a plant is native to its area. In fact, many wildflower mixes contain a large number of non-native annuals and bi-ennials. These flower in the first to second year and provide color, but some will not persist beyond the first year. Examples include poppies, cornflowers (aka bachelor buttons), and cosmos.
"If one of the reasons you're planting a meadow is to support birds, bees and butterflies, you really need to look at the number of native species in the wildflower mix," says Catherine Zimmermann. "Native plants are best suited to supporting our native pollinators. That's because 90% of our native insects are specialists and can only eat a particular native plant or family of native plants that they have evolved with over time, and I'm talking about a long, long time. "For instance, when a butterfly lays her eggs, she lays on a plant that the youngsters can actually eat. That plant is, most often, a native plant."
Here are some southern New England natives for a sunny open space meadow: Milkweed, butterfly weed, goldenrod, asters, black-eyed Susan, Culver's root, New York ironweed, golden Alexander, bee balm, lavender hyssop, foxglove beardtongue, ox-eye sunflower, and partridge pea. There are many others.
Whether you have a 10' x 10' plot or several acres, fall is a good time to begin the meadow journey. Aside from its benefits to local ecology, some have compared these landscapes to "a massage for the soul."
Monique Hanson, a Chester, CT, homeowner, is now finishing her first season after planting a 10,000 square foot meadow on June 11, 2014. She chose a mix with 65% native flowering perennials and about 15% annuals. By August 8, the annuals were providing brilliant colors. Next year, many of them will not return but perennials and biennials will take their place. "I love taking care of the meadow. It settles my mind," she says. "And people tell me they haven't seen any monarch butterflies this year. But I've seen quite a few."
Both Mark Lavoie and Catherine Zimmermann emphasize that a meadow is an evolving landscape. It never looks alike two years in a row. Furthermore, many perennials take a year or two to blossom so it may not reach peak color until the third to fifth year. But with each passing year, maintenance is less and enjoyment is more. "Meadows are both a journey and a destination," says Lavoie.
This article first appeared in the Fall edition of The Habitat, quarterly newsletter of the Connecticut Association of Conservation and Inland Wetland Commissions.