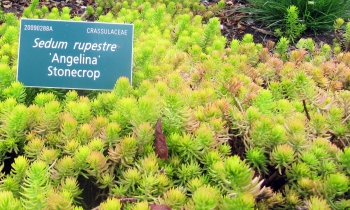 It's hot; it's dry. Do you know where your sedum is?
These plants are the quintessential ingredient in many green roofs, though you may know sedum as the tall autumn species that flowers along with mums and ornamental kale.
If you have areas where lawn grass or other plants refuse to grow, you may find a willing landscape partner in the ground-covering sedums. There are several dozen varieties. Some of them capable of living on pure gravel; some are pert and colorful through the winter. Most sedums abhor wet feet. Some refuse to grow in rich, fertile soil. In other words, they are the very definition of great landscape problem-solve. 
For more information, please see my latest article at The Day/Zip06. It includes a review of a great book on sedum, plus references to green roofs. Download a PDF below.