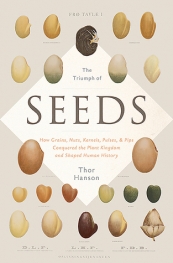 How did grains, nuts, kernels, pulses, and pips conquer the plant kingdom and shape human history? If you find the question intriguing, you'll find some answers in this thoughtful look at the multiple ways societies interact with plants and seeds. As science reading goes, it is easy to follow. It covers several big lessons in plant evolution, such as the leap from spores to seeds--and even speculation about the future of seeds. You'll probably never look at moss, ferns, or apples the same way again.
The book is evocative of Michael Pollan's "Botany of Desire," with lots of human history, expert interviews, and stories. I experienced this book as a recording, which I found easy and enjoyable.
Read this book if you are interested in: Plant reproduction, seed dispersal, co-evolution of plant and animal species (including humans), recent work by the science community to conserve species and preserve seeds for the future. 
My rating: 4 of 5 stars
View all my reviews on Goodreads.