I've talked with people who hesitate to go outside, worried about getting a tick bite. Researchers from the Connecticut Agricultural Experiment Station (CAES) have investigated the problem for years. Here's my 2014 interview with Dr. Kirby Stafford III, a leading tick researcher at CAES. If you have trouble with the link, please download the PDF below. (Also, find a link to a 2021 podcast with Dr. Thomas Mather at TickEncounter Research Center, below.)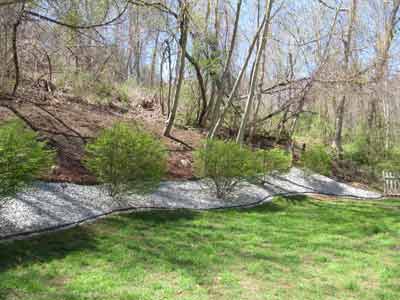 The photo on the right shows one of the landscape practices recommended by Dr. Stafford--a border or a pathway of dry, non-living materials, in this case river stone, separating woods from sunny lawn area. Ticks don't fare well in dry areas. Also, spaces such as these create a "safe zone" for walking across the property. 
CAES researchers confirmed in 2014 the extraordinarily high incidence of ticks in woodlands where the nonnative invasive shrub Japanese barberry has spread throughout the forest understory.  
Since 2014, research continues to confirm the value of dry, sunny borders. Research also confirms the value of permethrin-treated clothing. Learn more about that in my article, How to Leave Ticks in the Woods.
Podcast lovers: Hear tick expert Dr. Thomas Mather, director of the University of Rhode Island's TickEncounter Resource Center, introduce free tools you can use to educate yourself about the different types of ticks. Learn what the respective risks are in your neighborhood, and get tips on how to minimize your exposure. Also: In the second half of this 30-minute podcast, I discuss how I try to make my own landscapes less tick friendly without banishing other wildlife. Stream the podcast or download "Growing Greener"  by Thomas Christopher on Apple Podcasts, Google Podcasts, Spotify, or Amazon.
Also, visit the CAES web site. The search bar on their web site leads to a list of the many guides and papers they offer at no charge.