Buy local: It's entered the public consciousness in a way never imagined 10 years ago. If foot traffic was the only indicator, we could only assume prosperity for the vendors below the colorful tent tops. But that may not be the case unless more and more consumers make it a habit to spend a percentage of their household dollars on locally grown and locally made. 
Please read the article below from The Day community papers: "Pledge to spend 10% of food budget on local goods."
If you have trouble with the link, please download the article in PDF format below.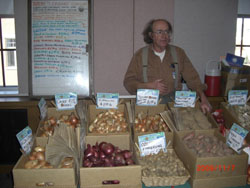 Farmers such as Wayne Hansen of Wayne's Organic Garden in Oneco, CT, depend on consumers to buy directly from them at farmer's markets, CSAs and direct from the farm. Hansen is a year-round grower.