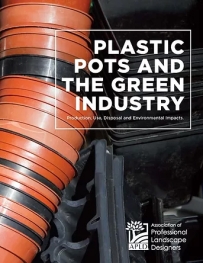 Plastic pots do a great job of helping us bring home the beauty of plants. But what can we do with the pots?  
In Connecticut, we can recycle green, white, and red pots. (Clean them out first, please.) This unfortunately leaves out all the black pots and trays, which are the majority.
As for plastic bags of potting soil and other garden products, plastic bags marked No. 2 and No. 4 are acceptable where the plastic film is recycled. (Turn the bags upside down and shake them out.) To find a recycling location, enter your zip code at bagandfilmrecycling.org.
Now, here's the good news: The plant industry may also offer improvements to the plastic pot problem in the next few years.
Author and ecological landscape designer Marie Chieppo of Sagamore Beach, MA, wrote a 2020 report titled "Plastic Pots and the Green Industry" for the Association of Professional Landscape Designers (APLD).
"Professional landscape designers specify hundreds of thousands, maybe millions of plants in our designs every year," she says. "We're aware that the pots go to landfills." In fact, about 98 percent of plastic horticultural pots end up in landfills, according to the APLD's Healthy Pots Healthy Planet initiative.
According to Chieppo, "The current recycling technology for plastic pots is burdensome, and the process of preparing them for recycling is cumbersome, complicated, and cost-prohibitive." Chieppo says that growers have participated in productive experiments, but, as with other examples of change in land care, economics drive the speed of change.
"There are alternative pots available for commercial growing. It's a matter of getting more growers to use them," she says. The report describes plantable, compostable, and bio-plastic pots.
As for the outlook, Chieppo says, "It is still a huge problem, but we are making good headway."
What's the take-home message?
1. For now, recycle green, white, and red pots at transfer stations.
2. Recycle No. 2 and No. 4 bags where plastic film is accepted, separate from traditional transfer station recycling.
3. Shop at garden centers that take back the pots they sell. Also, look for garden clubs and other community groups that give used pots a second life.
See the complete article at Zip06/TheDay.