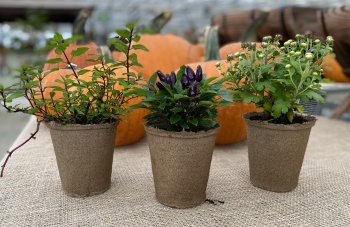 Holiday, 2021: The useful, earth-kind products described below are all have a special gleam of their own, having been invented, made, or packaged in Connecticut, notably free from gnarly supply chain woes. The products include the following:
Wiggle Room earthworm castings, courtesy of 800,000 red wigglers in Bridgeport
Cow Pots, plastic-free plant containers from Freund Family Farm in Canaan
Green Envy, decorative top-dressing that doubles as a soil amendment, made in Middlebury
City Garden is a veggie garden in a box from FibreDust LLC of Cromwell. Phone them at 860-597-3844. 
Connecticut Gardener Magazine is written by local experts about local gardens, suppliers, and conditions
If you like to buy from locals, don't forget about our well-established regional seed suppliers, too: Kitchen Garden Seed in Bantam, Hart Seed in Wethersfield, NE Seed in East Hartford, and Select Seeds in Union. (Also, read about the much newer Eco59.com, a seed project that aims to provide ecotypical seeds for ecoregion 59.)
This article appeared during the December 2021 gift season. For complete text, visit Zip06/TheDay. 
| | |
| --- | --- |
| | |
| Green Envy is both a topdressing and a soil amendment.  | Connecticut Gardener Magazine is written by and for regional gardeners.  |