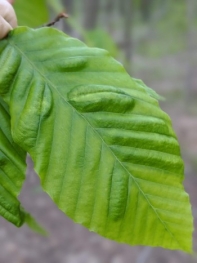 A great European copper beech graces our front yard. Its crown is 80 feet wide and the trunk 10 feet around. We think the tree was planted around 1800 by occupants of a nearby historical home. If so, it has lived through all the natural events of the 19th- and 20th centuries, including the infamous Hurricane of 1938. Now, we worry that the 21st century be its last because our tree shows the symptoms of beech leaf disease (BLD).
According to Dr. Robert Marra, an associate scientist and forest pathologist at the Connecticut Agricultural Experiment Station, the disease is "easy to diagnose but hard to study." BLD's cause was undetermined from 2012 until 2020. Then researchers identified the culprit, a previously unknown nematode.
Transmission, however, is still poorly understood.
There is no confirmed treatment at this time, though research continues. A treatment, when discovered, will be valuable for individual specimen trees.
Experience shows that some saplings succumb in only a few years. That should give me some hope for my aged copper beech. But Robert Marra says it is too soon to know if older trees will adapt to the onslaught and stabilize.
Another chapter in the saga unfolds in forests across New England. There, BLD has wiped out countless beech saplings in the forest understory.
"American beech has been a foundational tree species of northern hardwood forests for a very long time," says Marra. "They make up as much as one-third of the forests."
Sadly, the Connecticut Notable Trees project lists 193 beeches whose size and beauty earned them a place on the list, many of them signature icons on town greens (see oak.conncoll.edu:8080/notabletrees).
Bottom line: There is little we can do for beeches as I write this in September, 2021. But you can ask your town or neighborhood association to stay informed about BLD. Ask your town's board of finance to budget for tree care, and hopefully someday, include a treatment for beech leaf disease.
Learn more about what we can do and how to move forward.
Read the complete article at Zip06/TheDay. 
Thanks to Robert E. Marra, CAES for the photo of Beech Leaf Disease.