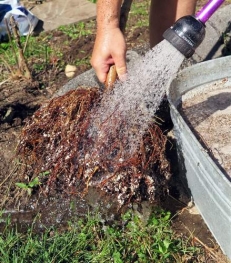 Roots may lack charisma, but the hidden half of the plant world is getting new attention. Roots are natural carbon-hoarders--and carbon is a hot commodity these days. 
That's a convenient truth, especially in autumn. Like chipmunks and squirrels, roots begin adding to their stores in late summer.
Did you know that trees are not the only way to capture carbon with plants? Both plant choices and good plant care can promote healthy roots and maximize carbon capture. Good root care, furthermore, improves plant success--and our enjoyment in the landscape. There's a lot to gain by being curious about the hidden half of the plant world. Read the article at Zip06/TheDay. 
If you have trouble with the link, please download the article below.