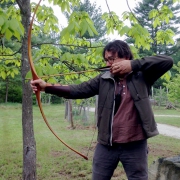 Perhaps you've heard the simple definition of a native plant: A plant that grew naturally on the American landscape prior to European settlement.
It seems simple enough--if only it were absolutely true. 
A forthcoming book by Manuel Lizarralde, associate professor in ethnobotany at Connecticut College in New London, CT, and Jason Mancini, director of the Mashantucket Pequot Museum and Research Center in Mashantucket, CT, brings new insight to the question. 
Their research, presented in Historical Ethnobotany of Southern New England, documents the use of more than 300 plants before the ships landed. It enumerates the plants' roles as medicine, food, tools, firewood, shelter, fodder, as "seasonal indicators," and as their roles in spiritual practice. The research draws on a complex variety of written and oral records, some of which date back more than a century. 
While many of the plants are reassuringly familiar, this pre-European landscape was not wild in the strictest sense. According to Manuel Lizarralde, it was a "cultural landscape," shaped, at least partly, by humans. Not every plant was strictly native to the area. Some plants arrived via trade routes from other parts of the Americas. For instance, the well-known "three sisters," squash, maize, and beans, arrived here around 900 C.E.
Want to know more? See my recent article for Zip06/TheDay.