They look so innocent and inviting, those little seed packets on retail counters in January, February, and March. Little did I realize what a complex history Connecticut seed companies have had until I began the research for  "Connecticut's long, rich history of providing seed for growers" at Zip06/The Day. (If you can't open the link, please download the article below.).
This article was a lot of fun to write--and beyond what's contained in the article, there are more fun facts. For example,  Comstock Ferre in Wethersfield is believed to be the first to put color illustrations on seed packets, which they called "papers" in the early days. 
For in-depth histories of CT seed companies, visit these links: 
"The Clark and Woodruff names put Orange seeds on the map"
"Wethersfield: The Cradle of American Seed Companies"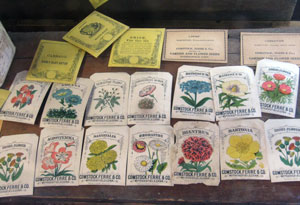 Follow these links to learn more about each of the companies or to read online histories:
Comstock Ferre/Baker Creek Heirloom Seed is now part of Rare Seeds.
Here are a few more of my articles on seeds:
Why we should care about local seed production
Understanding seed descriptions