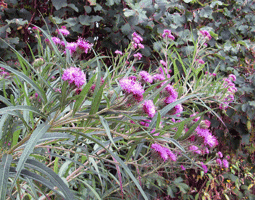 The articles attached to this page (see below) were created for The Habitat, the newsletter of the Connecticut Association of Conservation and Inland Wetland Commissions. They appeared in the fall 2013, winter 2014 and spring 2014 editions.  
This three-part series began with a discussion of why native plants are important not only in wild spaces, but in the built environment as well. In part 2, we looked at storm-worthy native trees for planting in parks, on streetscapes and in developments. The final installment offers a wide array of perennial plants that will help support pollinators in the summer of 2014 and beyond.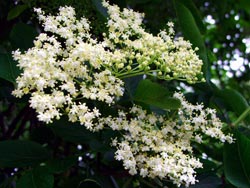 The articles are accompanied by lists of plants and resources for finding them, as well as references to books and web sites. 
Use the links at the bottom of this page to download the articles. 
Photo above: New York ironweed, Vernonia novaborensis
Photo on right: Elderberry, Sambucus canadensis