Can we lose the insects and still keep the flowers? According to greenhouse grower Nancy Ballek Mackinnon of Ballek's Garden Center in East Haddam, CT, we can. She and her team grow several thousand indoor species at their retail greenhouse where, on a recent visit, I found myself in a riot of flowering houseplants.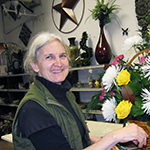 "Several factors are conducive to indoor insects at this time of year," she says. "Our indoor spaces have their own ecology, and when conditions become right, there are outbreaks."
For the complete story, "Healthy Indoor Ecology Key to Winter Houseplant Happiness," see The Day/Zip06.
If you have trouble with the link, please download the PDF at the bottom of this page.