My quest for interesting gifts from regional suppliers netted eight ideas this year. Categories include planting pots from Connecticut River mud, amaryllis bulk purchases, rain barrels, local seeds, high quality tools and composting systems.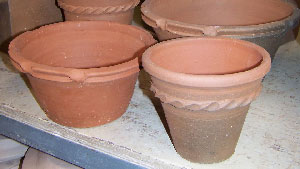 Please visit my latest article in The Day's community newspapers for "Eight Gifts with Local Roots for Gardeners." 
On the right, pottery made of red shale clay from the Connecticut River by Anita and Bob Griffith of Madison, CT. Below, Beverly O'Keefe, the Rhode Island Water Lady, with rain barrels. 
If you have trouble with the link, please download the PDF below.