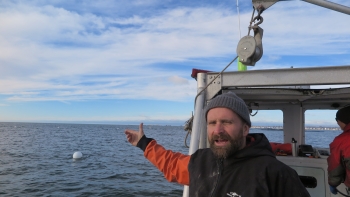 Long Island Sound fed Native Americans for millennia before settlers arrived, and it feeds us today. Unfortunately, today's fish and shellfish harvests are minnow-sized compared to days gone by.
Is there hope for a rebound? Local author and commercial ocean farmer Bren Smith, offers a way forward in his 2019 book, "Eat Like a Fish: My Adventures as a Fisherman Turned Restorative Ocean Farmer" (Alfred A. Knopf).
Smith developed a style of seafood production called "restorative ocean farming" that takes place on an imaginative vertical floating structure. The system rotates a winter-grown sea vegetable, sugar kelp, with oysters, mussels, and scallops. The operation not only provides food to consumers and livelihoods to ocean farmers, but also helps aerate the water, sequester carbon, and absorb nutrients from terrestrial runoff.
Smith tells the tale of his breakthrough through the unpolished lens of his own life story. It begins in Newfoundland and unfolds on many other shorelines, including Massachusetts, Alaska, and finally, Connecticut.
Setbacks? He's had a few. Some were self-inflicted, but many arrived on the waves that rock today's commercial fisheries. With each setback, he found his way back to the sea and deepened the awareness that brought him closer to where he is today: an ocean farmer who owns the Thimble Islands Oyster Company off the coast of Branford, CT.
I first learned about Smith's work through GreenWave.org, a New Haven nonprofit he helped found. GreenWave offers aspiring ocean farmers the information, tools and technology to launch their own ocean farms. (They have now partnered with more than 50 aspiring ocean farmers, in addition to several high schools and universities.) Smith's innovation resulted in several awards and lots of media recognition.
I listened to the audio version, which Smith ably narrates. Highly recommended.