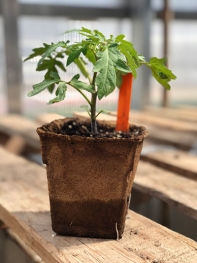 Our New England growing season is only six months long, but the plastic pots, trays and liners that hold our short-lived plants may last for decades. If you would like to change the footprint of your gardens, consider your options. 
My current favorite is biodegradable pots, such as the CowPot pictured here. They do a "disappearing act" in one season, unlike their plastic counterparts. 
Furthermore, biodegradable pots feature porous walls. The benefit may not be obvious, but porosity helps stop roots at the pot wall through a process called "air-pruning." It keeps roots from circling, also called girdling, a problem common in plastic pots.
Besides, all biodegradable pots go directly into the soil and decay. The plant never leaves the pot.
"There's no need to crush or tear the pot, eliminating trauma to the roots," said Amanda Freund, sales manager for CowPots and a member of Freund's Farm, a third-generation vegetable and dairy operation in Canaan, CT, where Matthew Freund invented CowPots. "That eliminates most transplant shock." 
Other options? I can think of five:
1. Use kitchen containers, such as milk jugs and takeout containers. See ideas from the Winter Sowers at wintersown.org/Containers.html or visit their Facebook page.
2. Find garden centers that will take pots back. Before you shop, call ahead and ask. If they don't take pots, consider calling around.
3. Find an organization or grower who can reuse nursery pots and trays. Many garden clubs, for instance, collect plastic pots for their spring plant sales.
4. Store pots for reuse later in the season. 
5. Finally, there's bare root planting if you can find a supplier. 
Read more about biodegradable pots at TheDay.com. 
If the article link isn't working, please download the article below.