March 2015: What happens when a couple of new college grads get some goldfish and an aquarium? Maybe not what you think. I had the good fortune to visit Fresh Farm Aquaponics recently at a Glastonbury greenhouse.
I saw firsthand what can happen when three childhood friends return to their hometown after college and invest their energies in a vision. Even on a cold January day, Salanova lettuce was green and flawless in a solution of water and biologically produced nutrients. Now, with the lengthening days of spring, the team at Fresh Farm anticipates big things. 
---
Spencer Curry, Fresh Farm Aquaponics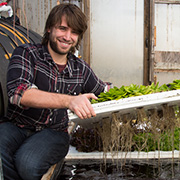 "Aquaponics combines hydroponics with aquaculture to produce organic food," says Spencer Curry.
These systems generate their own nutrients from fish that live "upstream," at the highest point of this closed-loop system. Fish wastes are converted by beneficial microbes in another part of the loop, rendering a clean high-nutrient solution that circulates into growing flats. The system produces all the micronutrients and macronutrients needed to grow a wide variety of food crops.
Some growers farm tilapia and sell the fish for protein. Others sell mature fish for pond life. Spencer Curry says they have no current plans to sell fish for food, but may sell ornamental fish eventually. In 2015, however, they will begin packaging fish wastes for sale as fertilizer.
"There are a variety of ways to make money from an aquaponics system," says Curry. "The upfront investment is a bit steep, but aquaponics pays for itself in a year or two. It's a fast payback system."
For the original story, please visit The Day/Zip06. If you have trouble with the link, please download the story at the bottom of this page. 
2018 Update: The Fresh Farm farmers have moved to Meriden, CT, where they continue to build their business, and also build and install systems for others or consult with people who have built their own.
Photos by Chuck Landrey.