One of my current design projects is a lakeside garden of native shrubs and perennials. Several online resources have proved very helpful, but one of the best new resources to come along in the past year is Go Botany.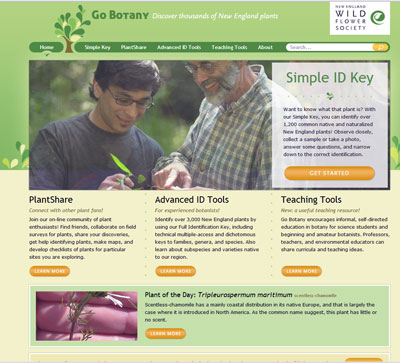 The free database is a service of the New England Wild Flower Society, based in Framingham, MA. The site offers a "simple key" to help identify and understand native and naturalized vascular plants of New England.  According to project manager Elizabeth Farnsworth, the database currently has 3500 records of species, subspecies, and varieties in New England. Each record contains up to 100 items of information about each plant.
Go Botany is based on the scholarly Flora Novae Angliae by Arthur Haines (Yale University Press, 2011). Since Go Botany offers a very high standard for separating native from naturalized, I've been using it as a check on other research.
The database is still a work in progress; some plant pages lack data and some plants that other sources report as native don't yet appear in the database. But according to Elizabeth Farnsworth, more features and new data are on the way. For example, the New England map will be color coded to show where a plant is non-native in a county or state. There are new tweaks to the format, too, that Farnsworth says will make plant records easier to interpret.
http://gobotany.newenglandwild.org/