I visited the Charles Hart Seed Company booth at New England Grows, where staffer Sandy Marshall was happy to share packets of their latest offerings. She talked about the company's recent campaign to help the public (and the growing industry) distinguish between GMO (genetically modified organisms) and GE (genetically engineered).
In a recent press release, the company made a point that GMO "is a very broad term . . . it refers to any living thing that has different DNA, no matter how slight, than its parent." (In that view, human beings are all GMOs.) Genetically engineered (GE) plants are in fact a type of GMO, created when the natural plant "mating" process is completely bypassed.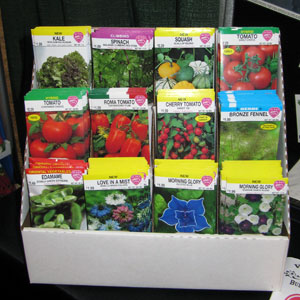 "The media is full of controversy over this subject," said Marshall. "But it's not fair to our farmers to force them to use a GMO label when that can apply to all sorts of hybrids as well as to true GE seed." 
In addition to Hart Seed, three other Connecticut-based seed companies--John Scheepers, Comstock, Ferré & Co, and New England Seeds--have taken the Safe Seed Pledge:
"We pledge that we do not knowingly buy or sell genetically engineered seeds or plants."
---
I was surprised to learn that Connecticut has four seed companies. (Are there more?) Hart Seed is the oldest continuously operating, family-owned seed company in the country--the fourth and fifth generations are now in charge. But the other three have long histories in the state as well.