Four-season food growing in the northeastern US? It's a topic that pops into gardening and farming headlines more and more. The topic has long been of interest to me; I've practiced season extension and cold-cellaring for years. But full production in winter is a skill unto itself.
See my "Green and Growing" article in The Day/Zip06 for a profile of winter farmer Wayne Hansen. Hansen was the first certified organic grower in eastern Connecticut in 1989 and CT NOFA's Farmer of the Year in 2009. If you have trouble with the link, download the article below.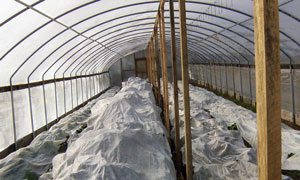 Want a good book on winter and year-round vegetable growing? I recently interviewed Niki Jabbour, author of "The Year-Round Vegetable Gardener." This was one of the bestselling gardening titles of 2013 and will be the subject of my next article in The Day.
Other good books? One of the first authors to open my eyes to the possibilities was Elliot Coleman. In in "Four-season Harvest," he and co-author Barbara Damrosch tell the story of how they uncovered for themselves the interaction between latitude, sunlight and climate. The book is well worth reading, along with Coleman's informative, professional-level "Winter Harvest Handbook." Coleman discusses the importance of sunlight vs. temperature, with temperature being less important than I thought and sunlight being more important.